Our business
Mainstream was founded in 2001 with a vision to build a "business for the future" by becoming the world's leading provider of recirculating aquaculture products. Over two decades of innovation, Mainstream Aquaculture has developed proprietary technology in the form of land-based aquaculture systems and a Barramundi selective breeding program that has enabled its growth. The vertically integrated company has become one of the largest Barramundi producers and suppliers in the world and has evolved its vision with the aim of becoming the world's leading supplier of premium white fish.
Mainstream Aquaculture operates the world's largest aquaculture system of its type in Melbourne, Australia, as well as multiple award-winning pond farms, including Australia's largest, in Far North Queensland and in the Arizona Desert, U.S.A. Its production facilities are supported by an advanced selective breeding program conducted in the world's biggest Barramundi hatchery in Melbourne, Australia, along with its research hatcheries in Far North Queensland, Australia. This program underpins Mainstream's farm operations through the supply of high-quality juvenile Barramundi that demonstrate rapid growth, low growth variance, high fillet yield and disease resistance.
Mainstream's vertically integrated business supplies premium table fish into the Australian and USA markets and exports seed stock from its breeding program into 27 countries across 5 continents.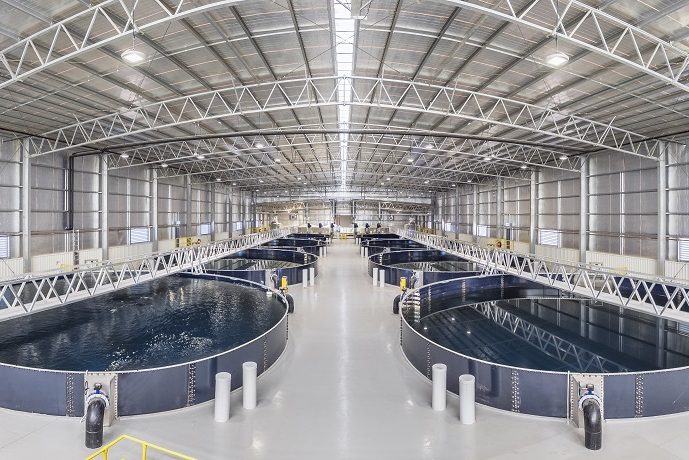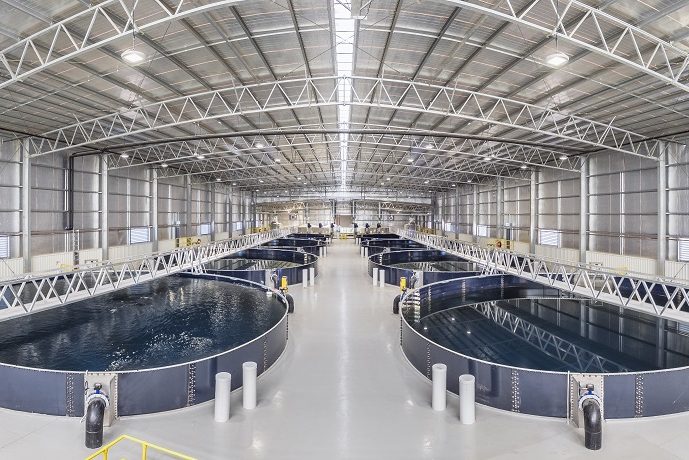 Why Barramundi?
The name Barramundi was derived from the indigenous Australian language and means 'large scaled river fish', its scientific name is Lates Calcarifer. The fish is of large commercial importance; it is fished internationally and raised in aquaculture across Australia, Malaysia, India, Singapore, Indonesia, Israel, Thailand, Taiwan, Saudi Arabia, the United States and Vietnam. Its wild distribution range extends from the Persian Gulf to Southern China and across to Northern Australia.
Barramundi are the preferred species for aquaculture due to their natural schooling behavior, adaptability to a wide range of rearing conditions, rapid growth rate, high fillet yield, and medium to high value in the marketplace.
Barramundi have been reared in ocean cages in Malaysia, pond systems in the United States of America, and recirculating aquaculture systems in Sweden. Their ability to adapt to nearly any salinity, high stocking densities, and general hardiness have enabled their successful culture across the globe.
Barramundi has a reputation as a fine eating fish with a firm white flesh and is rapidly gaining popularity in premium retailers and restaurants across the world.
MainStream believe that Barramundi has the potential to be the white-fleshed equivalent to salmon due to the ease at which it can be successfully cultured, its superb flavor characteristics, and its rapidly growing popularity.
What we have achieved so far..
Since 2001, MainStream have developed successful table-fish and hatchery operations organically and via acquisition. The company now own and operate four farms across Australia and one farm in North America, and maintain a plan for significant growth over the next 5 years.
MainStream's Barramundi hatcheries are the largest in the world and demonstrate capacity to produce in excess of 70 million fingerlings per annum, reliably producing the very best quality Barramundi fingerlings on a monthly basis.
Through the Infinity Blue brand, MainStream now provides salt water and spring water reared table fish to distributors, retail outlets and restaurants across Australia and the USA. MainStream fish have won Gold and
Champion awards at the Sydney Fine Foods Show and are quickly becoming recognised as the Barramundi of choice in the industry due to the clean flavour and waygu-like marbling that enables a perfect crispy skin when fried.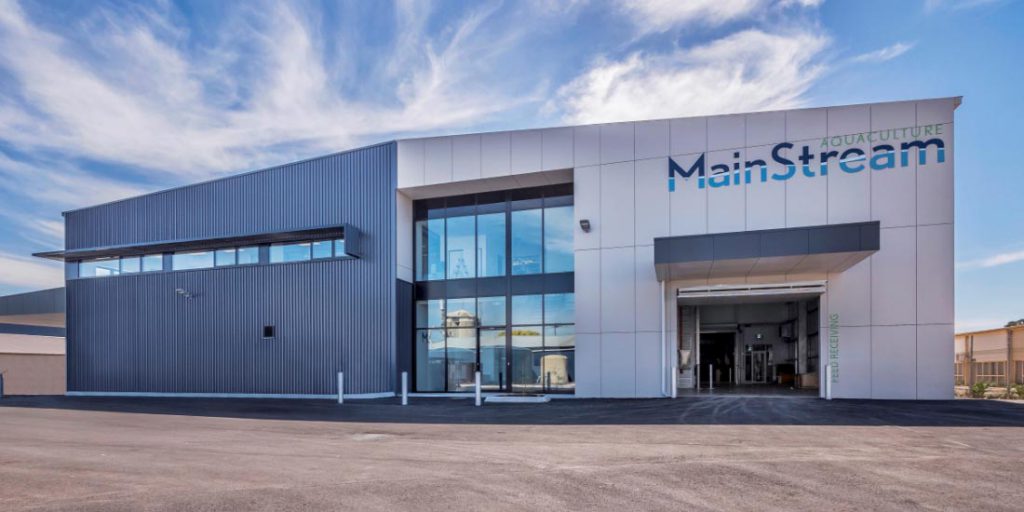 Corporate governance
Health, safety & environment
MainStream is committed to ensuring compliance with relevant health, safety and environmental legislation as a minimum hurdle in meeting our obligations to our stakeholders. The Board is accountable for the development, establishment and review of appropriate policy in these areas. Best practice is targeted through appropriate management objectives and structures.
As set out in our Work, Health and Safety Policy, MainStream aims for no injuries or incidents and is committed to providing a healthy and safe workplace. This commitment extends to the delivery of a healthy and safe product to all MainStream customers.
As set out in its Environmental Policy, MainStream is committed to protecting community living standards and the environmental heritage of future generations. As a responsible corporate member of the community, MainStream seeks to conduct profitable business with a commitment to protecting the environment. We seek to prevent pollution and minimise the impact of our operations.
Remuneration
Non-Executive Directors
The remuneration of Non-Executive Directors is designed to attract and retain suitable Directors and is determined:
Within an aggregate pool limit approved by shareholders.
In accordance with competitive pressures in the marketplace.
Executive Directors
The Board aims to reward the Managing Director with a level and mix of remuneration commensurate with their position and responsibilities within the Company to:
Recognise them for business unit and individual performance against targets set by reference to appropriate benchmarks and key performance indicators.
Align their interests with those of shareholders.
Link their reward with the strategic goals and performance of the company.
Ensure their total remuneration is competitive by market standards.
Role of shareholders
The shareholders of MainStream Aquaculture play a significant role in corporate governance. MainStream's constitution bestows formal responsibility for voting at Annual General Meetings and in alternative forums, voting on Board proposals that, in accordance with the constitution, require shareholder ratification.
The MainStream Board is accountable to shareholders of the business. The board has responsibility for the strategic framework that gives MainStream the highest probability of long term success.
The Board Charter provides scope to the Board's role and operations. In essence, the Board:
Sets the direction, policies, strategies and financial objectives for MainStream and monitors their implementation.
Appoints and reviews the performance of the Managing Director & Chief Executive Officer.
Ensures that appropriate policies and procedures for the management of business and financial risks are in place.
Monitors the efficacy of internal controls, performance benchmarks and compliance procedures.
Has a fiduciary responsibility to act with integrity and objectivity.
Investors enquiry
If you would like to become an investor, or would like a copy of our credentials pack, please contact us and we will be in touch shortly.
Get all the latest barramundi news to your inbox: