Golden Ornamental Barramundi
MainStream's Golden Barramundi featured at David Jones 2022 Flower Show
I want to get people excited about the beauty that surrounds us.

Joost Bakker – environmental activist and floral artist
Mainstream Aquaculture's beautiful Golden Barramundi have been featured as part of David Jones' 2022 Spring Flower Show. Crafted by environmental activist and floral artist, Joost Bakker, the show included all forms of nature, with hundreds of different species on display, all coming from suppliers, growers, and producers around Melbourne. This included oyster mushrooms in candy hues, mycelium blocks, snails, a tank of MainStream's rare Golden Barramundi, crickets and other insects, all housed under canopies of tulips, golden elm branches, yellow forsythia, apple and pear blossom.
"I want to get people excited about the beauty that surrounds us," Bakker said, "to understand and feel like they're immersed in an ecosystem where every single element is connected." The existence of Golden Barramundi in the wild is extremely rare, with the chance of one being born one-in-ten million. MainStream's dedicated Golden Barramundi breeding program, first commenced in 2008, nurtures a population of these exquisite fish, which are a popular addition to the most discerning aquarists.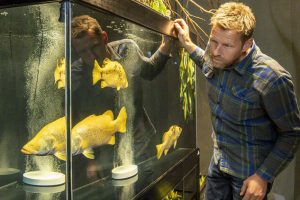 As good as gold
The existence of Golden Barramundi in the wild is extremely rare, with the chance of a Golden Barramundi being born one-in-ten million.
When Mainstream was founded nearly 20 years ago, there were anecdotal reports of rare golden and platinum coloured Barramundi being in existence. However, no tangible evidence was available to support these claims.
During its history, Mainstream has produced more than 1 billion Barramundi larvae from several thousand family lines and carried over 10 million individuals through its production facilities as juvenile fish.
The first golden fish was observed in 2008 and, with dedicated effort, these rare "golden" coloured Barramundi were isolated, genotyped, and grown to breeding size.
Since then, Mainstream Aquaculture has nurtured a Golden Barramundi population and commenced a dedicated Golden Barramundi breeding program.
The inquisitive and curious nature of Golden Barramundi make for outstanding aquarium fish, and these exclusive fish are now available to grace the exhibits of the most discerning enthusiasts.
With worldwide shipping available, contact us today for more information and to purchase these beautiful fish.
Barramundi for Sale
Golden Barramundi
20 – 35cm
price upon request
Stunning golden colour perfect aquarium fish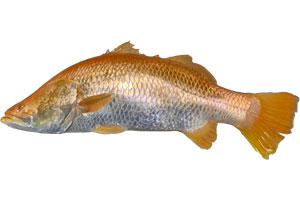 Platinum Barramundi
20 – 30 cm
price upon request
The rarest pure colour in our collection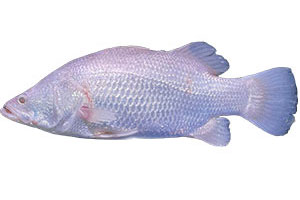 Extra large Goldens
price upon request
Only 5 Goldens this size are in existence, nothing could be more impressive in a large aquarium.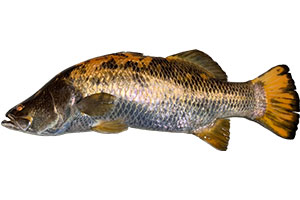 Dark Prince
34cm
price upon request
The most unique fish on our farm, jet black with stunning gold spots. Only one on the planet.
Panda
32cm
price upon request
Platinum with unique black patches and an inquisitive personality.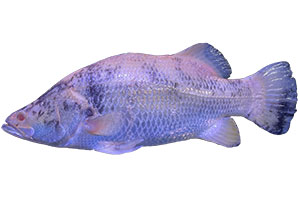 Archer
32cm
price upon request
Unique short panda with dark washes.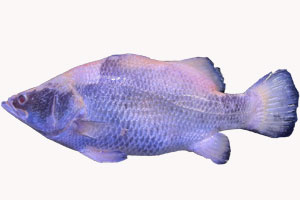 Jungle
31cm
price upon request
Unique jade colour with black jungle camouflage pattern.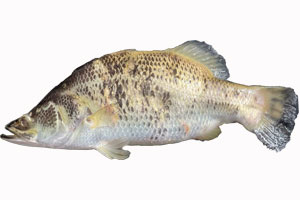 Speckled sunset
30cm
price upon request
Uniqiue platinum with black flecks.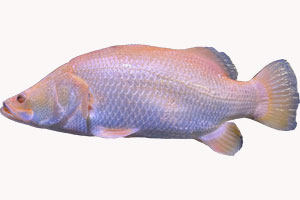 Our Most Beautiful Fish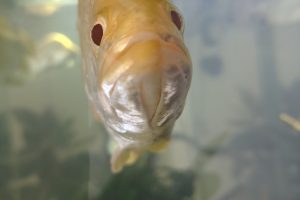 Expressions of interest
If you are interested in purchasing one of these rare and exclusive Golden Barramundi, please complete the form below and one of our sales team members will be in contact with you shortly.
Get all the latest barramundi news to your inbox: