Our story
MainStream Aquaculture was founded in 2001 by two mates inspired to feed the world with delicious, sustainably produced fish.
One a doctor, the other a plumber, they put the last of their combined savings into finding the perfect water source and after a several years they found what they hoped would be the ideal location. Since they first opened the tap, crystal clean, warm spring water has continued to flow allowing the Barramundi to thrive. They have since formed a fantastic team around them who continually push the boundaries of traditional farming, growing fish in geothermally heated, pristine spring water drawn from the ancient aquifer. Located just outside of Melbourne and boasting the world's largest warm water aquaculture farm of its type, they now are also the largest fingerling supplier in both Australia and the world.
Merging with MainStream Aquaculture in 2018, Pejo Enterprises (now trading as MainStream Aquaculture Queensland) was founded in 2002 by Marty and Linda Phillips. Raising superb Barramundi at their farm nestled between rainforest and reef in one of Australia's most beautiful and pristine environments, Marty and Linda combine the best that nature provides and a deep understanding of Barramundi to strike the perfect balance between science and nature with a commitment to conservation and sustainability.
Distributing to 27 countries
World-leading breeding program
Our R&D
We are constantly evolving our practices to ensure we stay at the cutting edge of the aquaculture industry, focusing our Research and Development efforts on three main areas: Engineering, Operational Management, and Breeding Activity.
Engineering
Our engineering objective is to develop recirculating aquaculture technology and pond farming infrastructure that can maintain the environmental conditions required for fish to grow at their full biological potential.
RAS plant design
To establish and evaluate the unit processes required for maintaining environmental parameters that permit optimal biological productivity.
Live Fish Handling
To develop technology that permits frequent high-throughput low impact handling of live Barramundi.
Bio-remediation
To develop processes and systems to reduce environmental impact.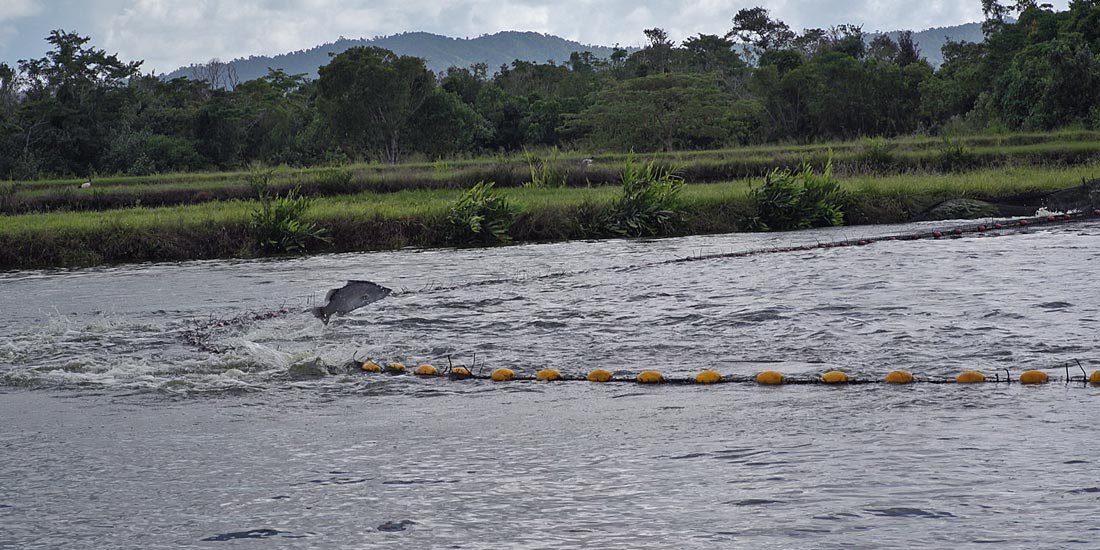 Operational management
Our operational management aim is to develop process technologies that enable fish to realise their inherent biological potential.
Feeding
To establish the feed and nutritional requirements that drive biological productivity.
Stocking
To develop stocking strategies that permit optimal biological productivity.
Fish health
To develop health management strategies that optimise productivity and mitigate performance constraints and disease.
End-product processing
To optimize best practices for purging, harvesting and sale of chilled Barramundi
Breeding
MainStream's breeding objectives aim to maximise the biological potential of our fingerlings.
Brood Stock Management
To gain full control over the breeding cycle of Barramundi.
Selective Breeding
To improve commercial attributes through stock improvement.
Golden Barramundi
To develop a unique strain of Golden Barramundi.
Did you know?
The name Barramundi was derived from the indigenous Australian language and means 'large scaled river fish', its scientific name is Lates Calcarifer. The fish is of large commercial importance; it is fished internationally and raised in aquaculture across Australia, Malaysia, India, Singapore, Indonesia, Israel, Thailand, Taiwan, Saudi Arabia, the United States, Vietnam and many more. Its wild distribution range extends from the Persian Gulf to Southern China and across to Northern Australia.
Our people
Working at MainStream Aquaculture
MainStream's people are selected to work with us not only for the right skills. Most importantly, we want people with a passion for aquaculture, the capacity to evolve and the drive to deliver outcomes as we continue to face new and exciting challenges.
Throughout your career with MainStream, we will encourage and empower you to take an active role in managing your development. Together, we believe we can enjoy professional and personal success and make a positive contribution to our community.
If you are interested in a career with MainStream, please email your resume to enquiries@mainaqua.com.au
Board of Directors
Michael Harrison
B.Bus (Acc), CFP, Dip FP • Chairman
Michael has over 25 years experience in the financial services industry. His career began with an opportunity to build a financial planning business, which became one of Australia's leading independently owned advice businesses. In 2008, he successfully navigated this business through a 14 way merger creating Shadforth Financial Group, now part of one of Australia's largest listed financial services businesses, IOOF. In 2012, Michael co-founded Peloton Partners, a business that uses his practical experience to advise other businesses on growth strategies. Michael has been a director of Mainstream Aquaculture since 2001 and Chairman since 2012.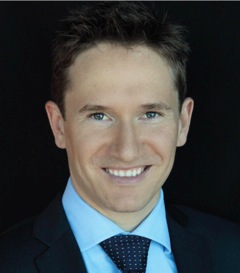 Boris Musa
B.Com (Acc & Fin-DS), MAppFin (CF & IM), Dip NR, MAICD • Managing Director & Chief Executive Officer
As the MD & CEO of Mainstream Aquaculture Group (Mainstream), Boris is responsible for strategic management of a large scale vertically integrated producer and supplier of Barramundi. Mainstream is one of the largest suppliers of Barramundi table fish products in Australia and is the global market leader in the provision of juvenile fish (seed stock) to the Barramundi aquaculture industry, exporting to 24 countries across five continents. Mainstream operates a multi-site business which includes the world's largest aquaculture production facility of its type in Melbourne, Australia, and two pond farming operations in far north Queensland, along with the world's largest Barramundi hatchery. Boris has been Managing Director since 2012 and under his stewardship company value, revenue and profitability have all increased exponentially with Mainstream recognised by Business Review Weekly as one of Australia's 100 fastest growing companies across successive years.
Boris' background is in financial services. He commenced his career in funds management business, Boutique Development & Marketing Direct and more recently, Boris spent five years at Macquarie Group, the last two as a Director of Macquarie Global Investments. He performed multiple roles across agricultural asset management, private equity, investment banking and traditional funds management, with his final position Global Head of Sales for Macquarie's Alternative Investments division. During his tenure, he was appointed to the Macquarie Global Investments leadership team and held a position on Macquarie's Global Deal Assessment Committee.
Boris is a member of the Juvenile Diabetes Research Foundation Finance and Audit Committee and has previously chaired this Committee, along with the State Committee. He is also a member of the Australian Institute of Company Directors and is a Director of the Wyndham City Refuse Disposal Facility. He holds a Bachelor of Commerce from Deakin University and is a Deans Scholar in Finance (top 1% of graduates). He also holds a Diploma in Natural Resource Management and a Masters of Applied Finance with majors in Corporate Finance and Investment Management.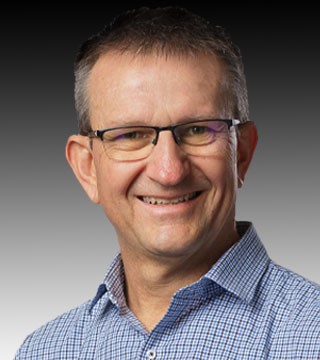 Professor Rocky de Nys
PhD, GDip Mgt (TechMgt), MRACI, C.Chem • Non-Executive Director
Rocky is a Professor at James Cook University, one of Australia's leading aquaculture education centres. He runs an extensive research program in aquaculture and aquatic science. His research focus is on the industrial production of algae for bio-fuels and bio-products. Rocky is actively involved in Mainstream's program of commercially focused research and development. He has extensive experience in aquaculture research and commercial fish farming and has formed many valuable industry alliances.
Rocky has been a director of Mainstream Aquaculture since 2001.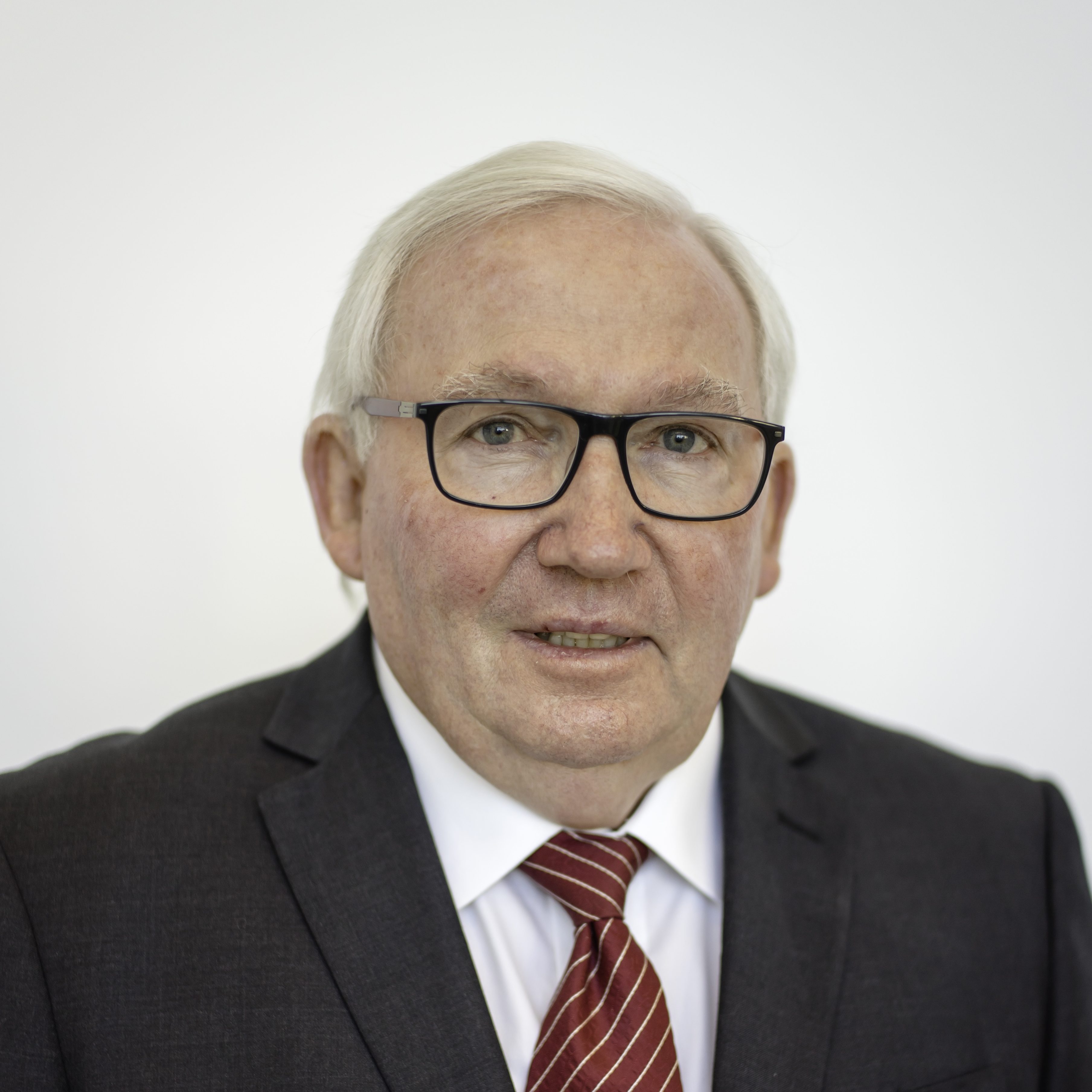 Peter Wilson
B.Ec, Dip Chem • Non-Executive Director
Peter is a former Managing Director and Chief Executive Officer of Spotless Group Limited, a large services company with turnover of in excess of $A3 billion. He has had extensive Australian and International experience in all aspects of management of industrial based businesses. Peter is now the principal of PAGA Consulting and an advisor to numerous private companies. PAGA Consulting, in addition to a broad range of business consulting and support activities, has specialised in the development of markets for products and services. The focus being on technologically advanced solutions at the leading edge of environmental impact. Peter also demonstrates a tenure of over 20 years as a Director and Vice-Chairman of the Juvenile Diabetes Research Foundation and is a presiding member of the foundations Finance & Audit Committee.
Peter has been a director of Mainstream Aquaculture since 2012.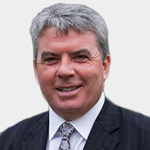 Anthony Podesta
B Ed (Bus), MTMA, FTIA, MAICD • Non-Executive Director
Anthony founded ASX listed company McMillian Shakespeare in 1988. Having commercialised the novated lease concept for employees to salary package a motor vehicle, Anthony was instrumental in the development of the outsourced salary packaging administration in Australia. Anthony was named the 2012 Ernst & Young Australian Entrepreneur of the year. Anthony is a fellow of the Taxation Institute of Australia and a member of the Australian Institute of Company Directors. During Anthony's time at McMillan Shakespeare (up until February 2014) the company grew from Anthony, as the sole employee, to an ASX 200 listed company with a market capitalisation of in excess of $1bn.
Anthony has been a director of Mainstream Aquaculture since 2015.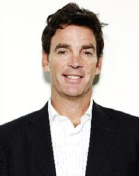 Stewart Baron
B.Juris, LLB • Non-Executive Director
Stewart Baron is the owner and Managing Director of Baron Corporation.
He is on the board of Peter MacCallum Cancer Foundation and is Chairman of its Finance Committee He is a board member of Peter Scanlon's private family group, Taverner, and a board member of Kaplan Equity Limited which has a particular focus on water agricultural assets Stewart belongs to the Young President's Organisation, Melbourne Chapter as well as CEO He is also a board member of Mount Scopus Memorial College Foundation.
Stewart is married with four children.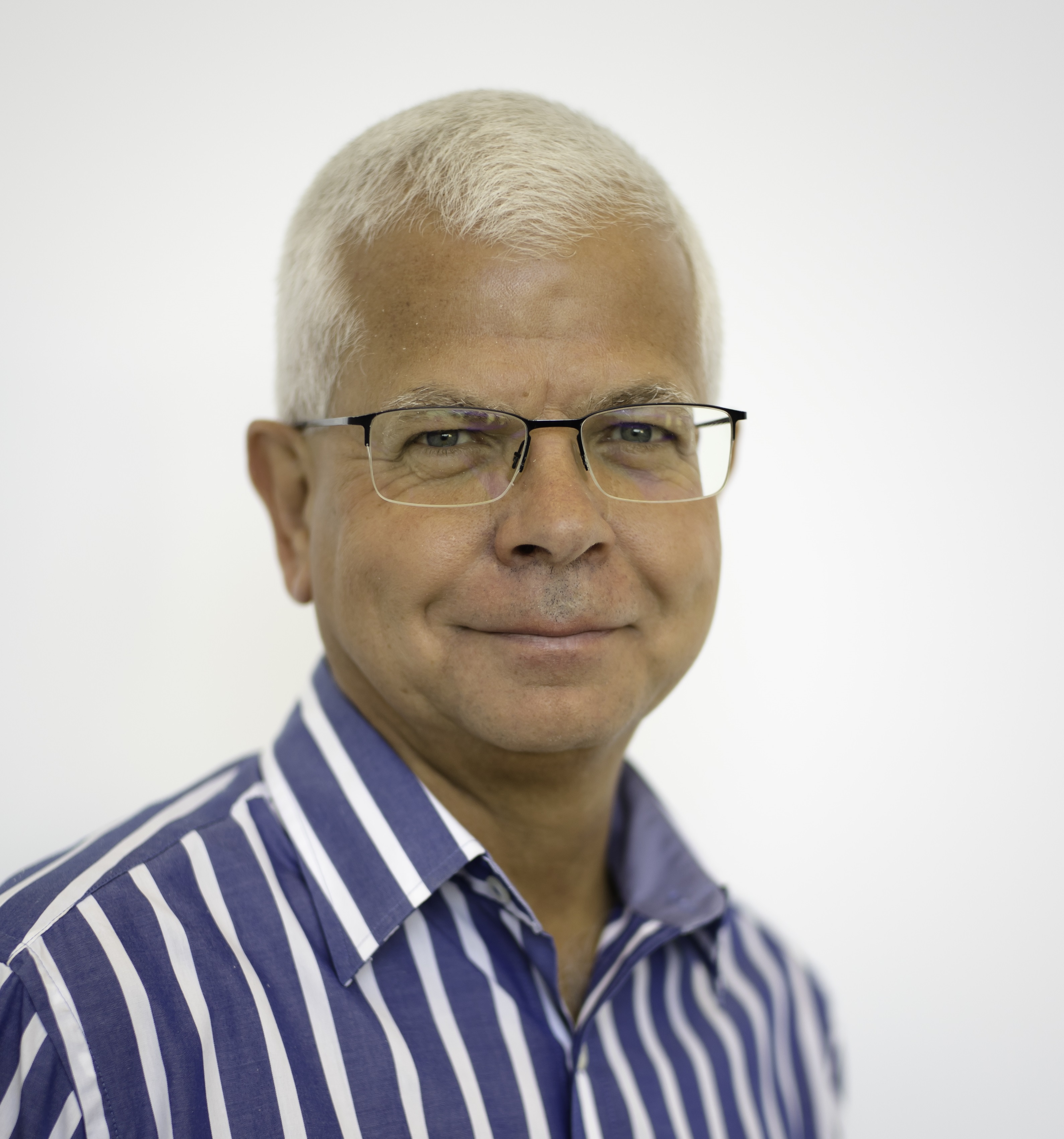 Mark Kirkby
CA, B.Acc • Non-Executive Director
Mark is a Chartered Accountant and currently works for PGA Management, a private family investment company, as its Commercial Director. In this role, Mark manages PGA's corporate office, its share portfolio and provides support as an independent director to the group's various operating businesses. Mark is also a member of PGA's Investment, Property and Commerce Committees. Prior to joining PGA, Mark has held various senior financial executive roles in a variety of industry sectors in both listed and unlisted companies.
Mark has been a director of Mainstream Aquaculture since 2015.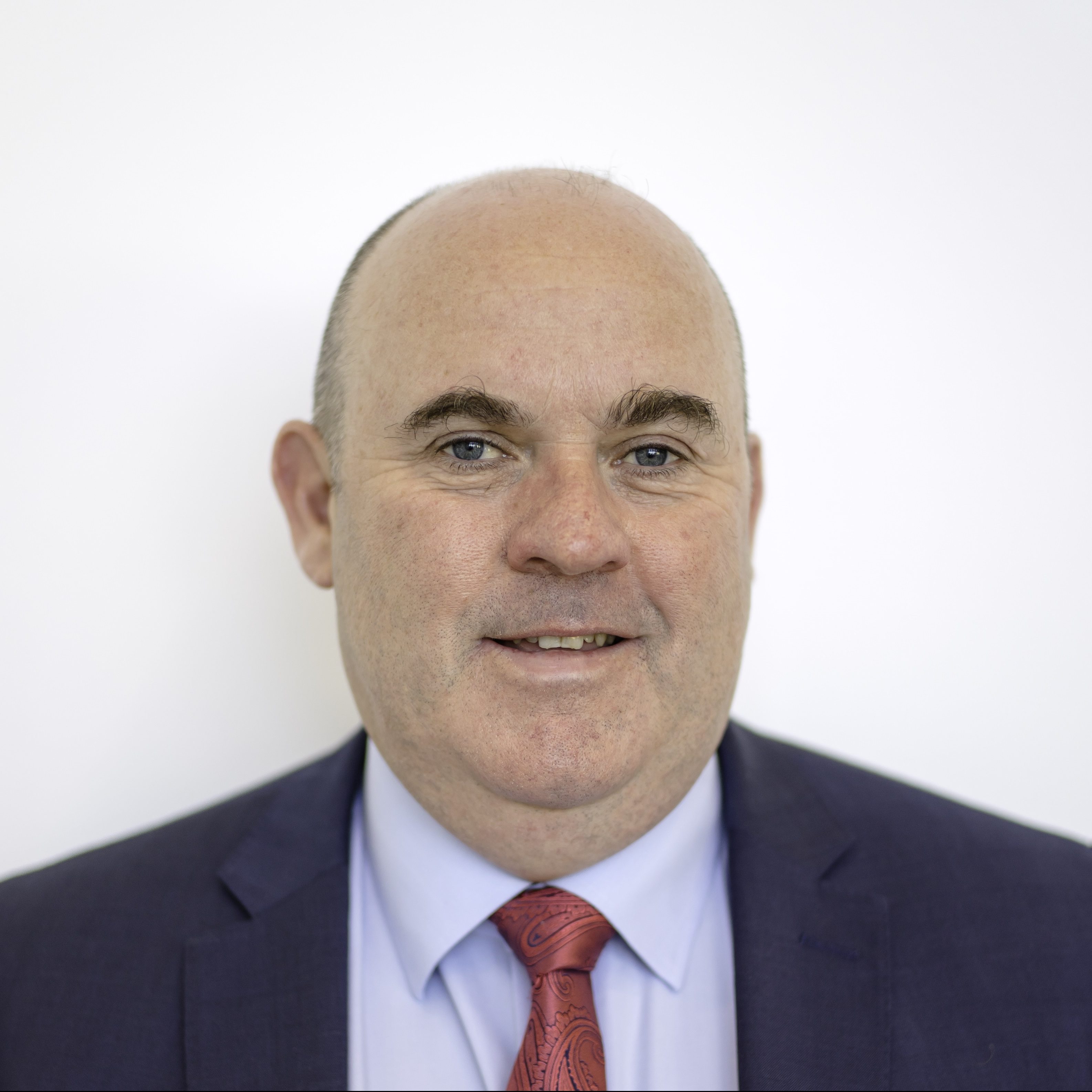 Paul McCluskey
CA, B Bus, Grad Dip Bus Admin, Grad Dip App Fin • Non-Executive Director
Paul is a Chartered Accountant with over 25 years' experience as a business advisor and also as CFO and Company Secretary of ASX listed company, McMillan Shakespeare. Paul is currently CEO of eCapital Australia, which provides support and invests in businesses at various stages of their life cycle. Paul's chartered accounting experience included holding the position of Partner in a leading accounting firm where he provided advice on mergers and acquisitions, taking companies to IPO, company secretarial services, statutory reporting, corporate governance practices, taxation planning and strategic planning. During Paul's time at McMillan Shakespeare Limited the company grew from a market capitalisation of less than $50m to over $1bn.
Paul has been a director of Mainstream Aquaculture since 2015.
Corporate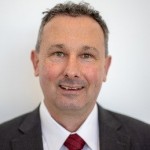 Matthew Mangan
• Commercial Project Manager
Matthew co-founded Mainstream Aquaculture in 2001 with a vision to become a world leader within the aquaculture industry. Matt has been integrally involved in Mainstream's operations having project managed the construction and commissioning of Mainstreams current plants and continues to play a key role in the future direction of operations. Matt also has extensive sales experience managing all sales and customer relations for Mainstream Aquaculture between 2003 – 2015.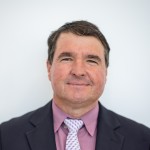 Marty Phillips
B. App. Sci (Agriculture), Ass. Dip App. Sci. (Agronomy) • Head of Business Queensland
Marty Phillips joined Mainstream in October 2018 when Mainstream merged with PEJO Enterprises, which he built with his wife Linda, over the last 20 years. Marty has a background in agriculture: having gained an associate diploma and degree in applied science, he worked in the sugar industry as an extension officer. He also grew sugarcane, bananas and papaya on the family farm near Innisfail in North Queensland.
Two cyclones in three years prompted the diversification into aquaculture. This quickly become the main focus of the business, operated over two sites. One was developed from a 'green field' site 20 years ago. The other site was a rundown prawn farm purchased in 2013 and has recently completed the first stage of expansion. Marty has continually refined the way he produces Barramundi. This has resulted in numerous awards, including champion, for the quality of their fish at the prestigious Sydney Fine Food show in recent years.
Marty has been an active member of the Australian Barramundi Farmers Association (ABFA), as an executive for over 10 years, including president for 7 years. In 2010, Marty was awarded a Nuffield scholarship. In 2012 he attended the Worshipful Company of Farmers Challenge of Rural Leadership Course in the United Kingdom. Marty is looking forward to working with Mainstream through his continued compassion for growing Barramundi.
Rick Romanin
BEc, FCPA • Chief Financial Officer
Rick joined Mainstream Aquaculture Group in early 2016 as its first CFO, his arrival timed to coincide with the construction of the landmark Wyndham RAS facility.
Rick started his career in his native Melbourne, where his first professional role was as an Industrial Engineer working for Kraft Foods in Port Melbourne, however it wasn't long before he found his way into Finance where he worked variously over several years as a Management Accountant, Property Manager and eventually as an Internal Auditor. He then left his FMCG roots behind and went on to cut his teeth in a more structured finance role as the Corporate Accountant at the then large conglomerate Amcor Ltd, consolidating over 200 subsidiaries and taking care of complex group treasury functions. Needing new challenges Rick then packed his bag and set sail for Europe where he spent the next ten years working as a Forensic Accountant, Group Controller, head of M&A and eventually as a Finance Director. During that time he has variously based in London, Paris and Brussels with extended stints elsewhere in Western Europe and eventually the States. Initially working in logistics, the largest assignment was with the world's largest drinks company Diageo, where he was working as head of Group FP&A at the moment that Diageo was formed through the merger of Grand Metropolitan and Guinness PLC. He then moved back to Melbourne and served as Mayne Health's Finance Director for its sixty hospital network, was Head of FP&A for Coles Myer's $23Billion Food, Liquor and Fuel Group, Finance Director for Linfox's $1.2Billion ANZ Operation and CFO and then acting CEO for the Korda Mentha owned Greyhound bus lines based in Queensland.
Never one to follow a conventional path Rick has always committed himself to his passions, family being the highest of these, he took an extended sabbatical over several years to care full time for his young family. Community is also important and this has led to roles as Treasurer for the local school, Secretary for the local football club, coach for the local cricket club and Vice President, umpire, coach and chairman of selectors at the local baseball club, all of which his two children Jack and Lauren participate in.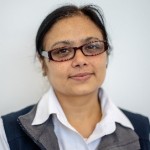 Sushma Nagpal
B.Com (Acc & Fin), MPA (Masters in professional Accounting), ACPA • Financial Controller
Sushma joined Mainstream Aquaculture in 2017. She holds a Bachelor of Commerce in Accounting & Finance from the Panjab University of India, a Master of Professional Accounting from Monash University, Melbourne and MBIT (Masters of business information technology) from RMIT University, Melbourne. She is also an associate member of CPA Australia. Sushma is an experienced senior finance executive with fifteen years of international experience and history of progressively responsible duties across multiple business sectors, with a focus in Aquaculture, service, and education industries. She has proven skills in team management, corporate structuring, problem resolution and communication. Sushma has a thorough experience and background in managing teams and financial processes with key strengths in the following areas: Extensive People Management, Financial Closing and Reporting, Cost efficiency, Process management, Internal Audit, Cash flow & credit management.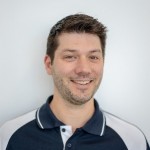 Jess Tale
B.Sci / B.Com • Head of Sales and Marketing
Jess joined Mainstream in 2018, bringing hands on experience building industry leading brands and sales and marketing teams from the ground up, and selling high value products in complex, fast paced entrepreneurial environments. Jess's work history includes building a pharmaceutical patent intelligence company from 2 to 35 people, and stints in product development, management and marketing consulting. Working for Mainstream represents the ideal juncture of his skills and passion for sustainability, aquaculture and all things fishy.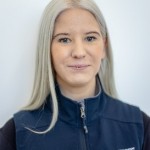 Marni Smith
• Office Manager & Sales Support
Coming from having worked in customer service for more than 8 years, Marni joined Mainstream in early 2016 where she assisted and supported the company with administrative tasks. Eager to advance her skills and take on new challenges within the company, Marni now manages the logistics of our export and domestic sales, supports the Sales & Marketing team and oversees all administrative activities.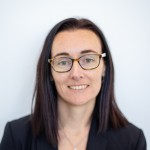 Samantha Gilbert
• Office Manager, Innisfail Queensland
Joining the Queensland branch in October 2018 with the Mainstream PEJO Enterprises merger, Sam brings with her over 16 years of experience in Administration and Customer Service roles within a variety of industries including hydraulics, manufacturing, surveying and town planning. Sam assists the Queensland management team by providing support within administration, systems and compliance. Sam is keen to continue to provide a high level of support to the team and has a desire to learn more about Barramundi and the Aquaculture Industry.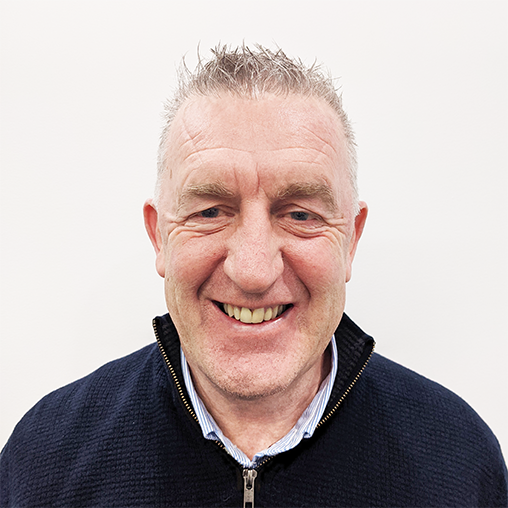 David Birch
• Chief Operations Officer
David Birch joined Mainstream in June 2021 after holding positions of CEO at Albi Imports – Design Group Australia and Oates Pty Ltd. Prior to his Australian working history, David held senior domestic and international roles in the Toy & Computer Entertainment industry – including in his native UK.
David has extensive Australian and International experience in all aspects of management in predominantly retail and wholesale businesses, servicing all major and independent customers in both retail and commercial/industrial segments.
He has a passion for developing an engaged and connected team, with a high focus on continuous improvement, and a vision for measured and strategic growth, both domestically and internationally.
This passion extends outside the workplace, as he spent the past 5 years as a director of 13th Beach Golf Links, a multifaceted Leisure complex that offers, two 18 hole, and one 9 hole course, accommodation lodges, restaurant and function facilities. An avid golfer himself, David is married with two sons.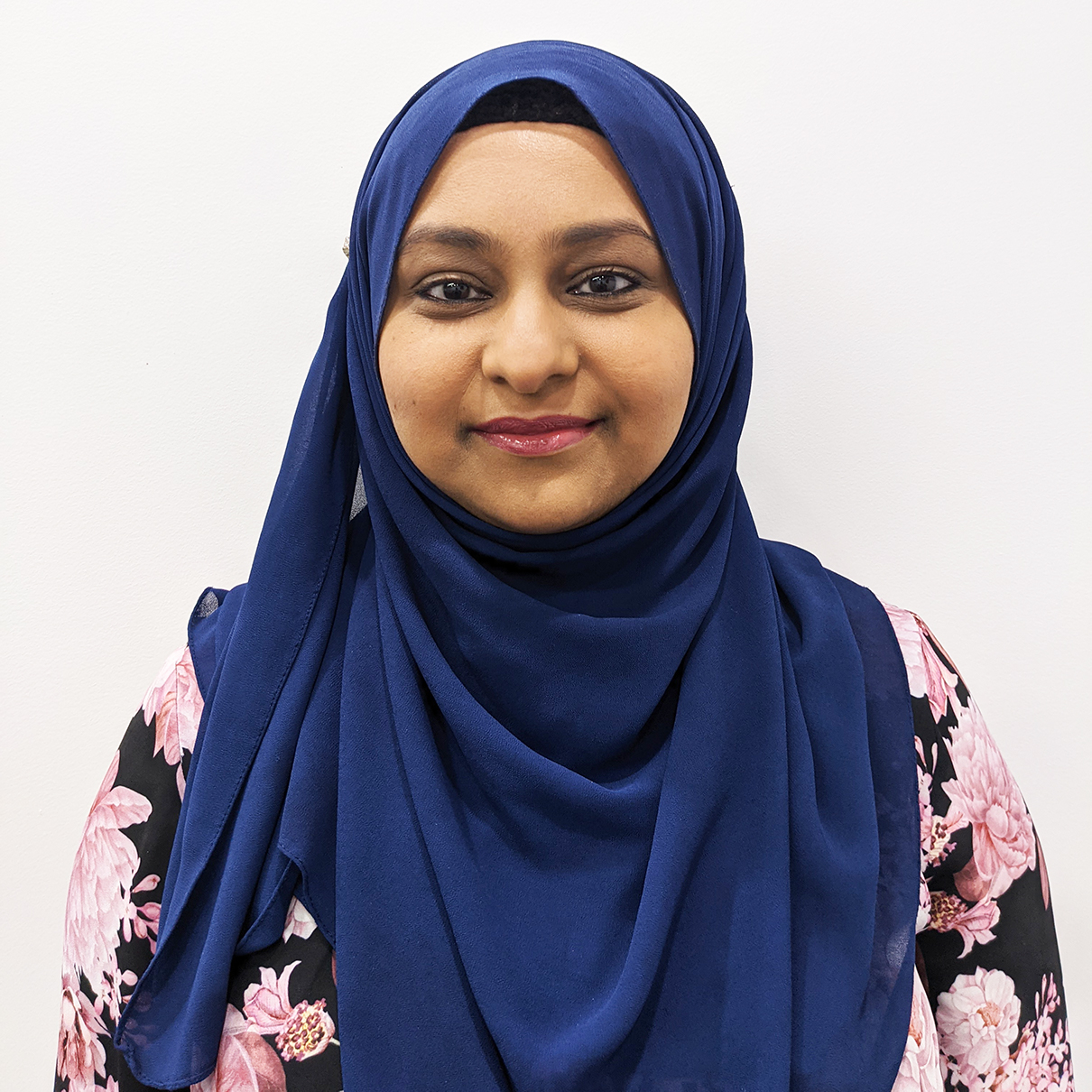 Tanvina Zafrin
BSc in Biotech, MSc in Biotech • Quality Systems Manager
Tanvina joined Mainstream in August 2021 following two years out of the workforce caring for her young family.
With extensive experience in quality assurance roles, Tanvina's excellence is reflected in Mainstream's consistent delivery of outcomes in an efficient manner.
Tanvina is responsible for designing and implementing system improvements across Mainstream's entire operations, as well as coordinating ongoing quality needs.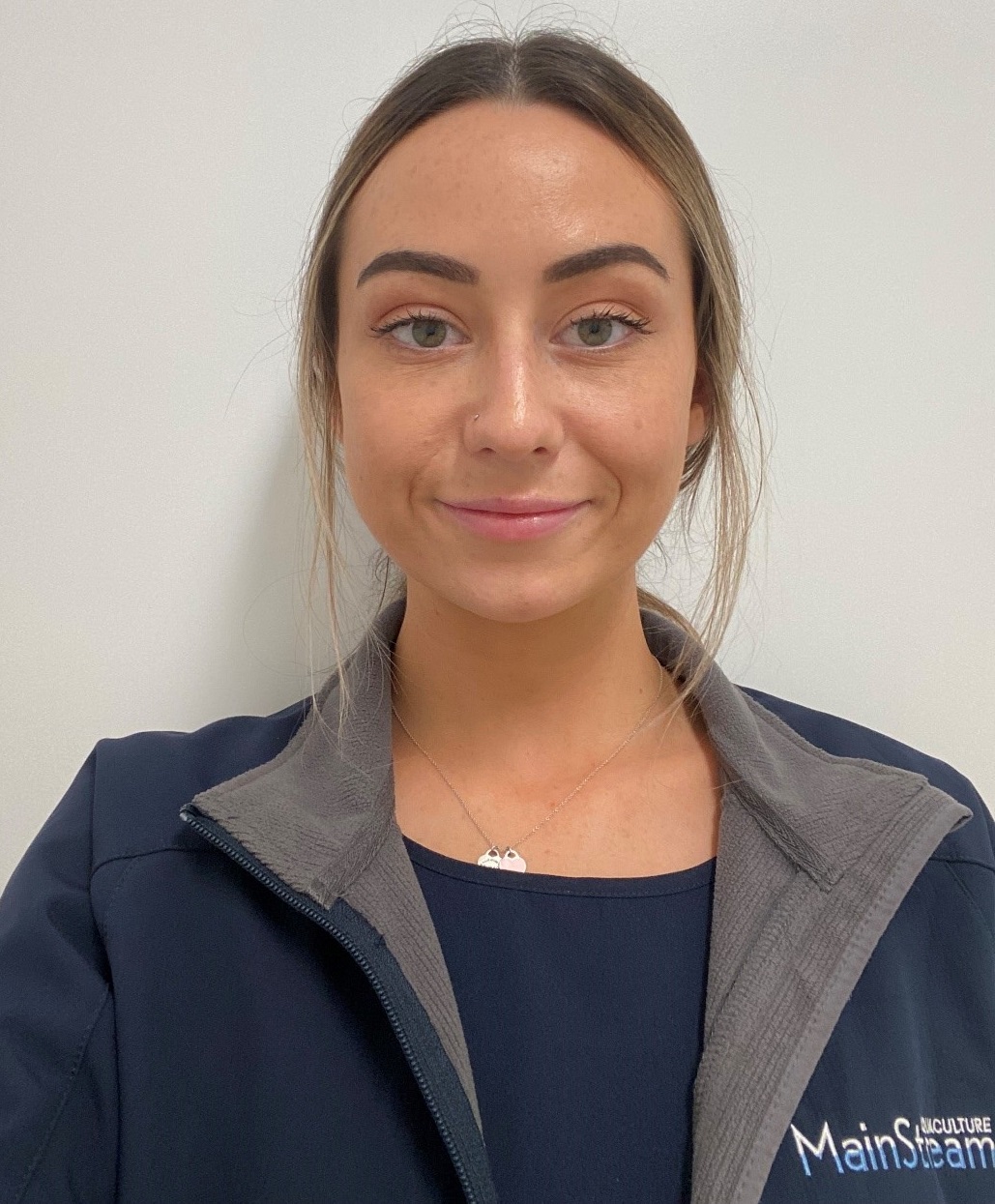 Britney Riley
• Administrative Officer
Beginning her journey at Mainstream as a maternity cover in May 2021, Britney has quickly become an invaluable member of the team. A passion for keeping an active and fast-paced lifestyle is evident through her working achievements, and Britney is eager to take on all responsibilities that come with the role.
With over 3 years' experience in administrative duties, Britney's impact on the company has been immediately obvious.  Her work in overseeing all reception and administration tasks, excellence in logistics coordination and sales support has allowed for Mainstream's continued growth and development.
Gabi Cain
• Office Manager, Port Douglas Queensland
Gabi joined MainStream in August 2021 with the acquisition of the Port Douglas farm where she holds the position of Office Manager.
Originally from Switzerland, Gabi moved to Australia in 1990 and excelled in a range of customer service roles. Never one to be complacent, Gabi decided it was time for a change and moved to Agriculture and then Aquaculture.
Joining MainStream after spending seven years as the Office and Quality Assurance Manager at a Black Tiger Prawn Farm, Gabi's extensive Aquaculture experience will be invaluable to the operations of MainStream Queensland.
Gabi is eager to continue learning about Barramundi farming and widen her knowledge. She looks forward to assisting with compliance, customer service and all other aspects of growing Queensland operations – and to evolve with the Port Douglas team!
Research & Development
Dr Paul Harrison
PhD, BSc (Hons.) • Chief Scientist
Paul co-founded Mainstream Aquaculture in 2001 with a vision to create an environmentally sustainable "business for the future" based on best practice aquaculture technology. Paul has worked in Australia and abroad, he holds a PhD in aquatic biology and is uniquely qualified with a strong track record in fish production across multiple species, fish hatchery operations, and research and development both in aquaculture and more broadly in marine biology. Paul has designed and commissioned numerous recirculating aquaculture systems, has an excellent understanding of the biological requirements for aquaculture, and a demonstrated capacity to merge these skills into successful commercial ventures.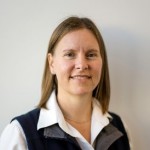 Holly Cate
BSc, MSc, PhD • Research and Development Manager
Holly has worked as a scientist in the United States and Australia. She holds a Bachelor of Science in Biology and Chemistry from the University of North Carolina, Chapel Hill, a Master of Science in Marine Biology from the University of North Carolina, Wilmington and a PhD from Georgia State University in Neuroscience. While in the US, Holly conducted extensive research on several aquatic species (fish, crabs, and lobsters). She has published over 40 scientific articles and book chapters. Holly relocated from the US to Australia and worked in biomedical research from 2001-2015, first at the Walter and Elisa Hall Institute and then at the Florey Neuroscience Institute and the Department of Anatomy and Neuroscience at the University of Melbourne. Holly spent the last 10 years of this time as the Head of the Myelin Repair Laboratory within the Multiple Sclerosis Research Group at the University of Melbourne where her lab was funded through government, philanthropic and commercial contractual agreements. Holly continues her support of Multiple Sclerosis Research as a member of the MS Angels and by serving as an ad hoc reviewer of biomedical research articles and grant proposals. Holly also holds honorary positions as Senior Research Fellow at the Florey Neuroscience Institute and Senior Research Fellow in the Department of Anatomy and Neuroscience, Faculty of Medicine, Dentistry and Health Sciences, University of Melbourne.
Holly has been the Research and Development Manager at Mainstream Aquaculture since 2015. She is responsible for developing R&D strategy and managing and reporting on experimental programs, which are designed to use applied science to maximise commercial productivity and profitability.
Table Fish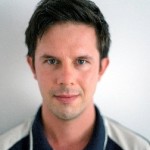 Daniel Mohring
BAppSc (Aqua) • Nursery Manager
Dan joined Mainstream in 2008 as a production technician. Dan has experience in the biological and physiological requirements for successful aquaculture and in the bulk handling technologies developed by Mainstream for the efficient and humane movements of live fish. He combines an exceptionally high personal work ethic with technical, people and time management skills. He was promoted to production manager of the grow-out component of the production cycle in 2010.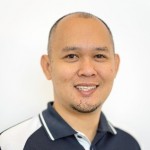 Adzlan Awang
BAppSc (Biotech), MSc (Aqua) • Deputy Nursery Manager
Coming from a line of fishermen, it would come to no surprise to his family, when Adzlan finally dipped his toes into the industry. Coming in from Malaysia with a degree in Genetics & Biotechnology, he dived headlong first into Australia to study aquaculture and later had his first job as a technician in a small RAS farm in South Australia. That company later gave Adzlan's his first managerial position and grew from a start-up to a multinational company with farms in Malaysia, Brunei, Japan and China.
Realising the potential of aquaculture, Adzlan came back to Malaysia and with a small group of friends, developed another start-up from a humble hatchery shed to a multi-million company and along the way paved the way for an integrated aquaculture facilities, complete with hatchery, nursery, grow out facilities and a processing plant. Adzlan later took the role of the Business Development Manager and expanded the market for grouper, snapper and barramundi into Asian markets such as Hong Kong and China.
Adzlan's key interest in aquaculture is always about improving production methods and giving back to the community. As an active secretariat of Malaysian Fish Farmers Association of Malaysia (MFFAM) Adzlan has worked with the Ministry of Agriculture and NGOs such as WWF Malaysia to organise initiatives to help fishermen develop localised sustainable farming methods and modernising of traditional farming methods. His proudest moment came when he saw his project being taken up nationally as a Poverty Eradication Through Aquaculture Project template.
Jason Clark
BTech (Aqua) • Head of Operations (Jay Rd)
Jason joined Mainstream in October 2018 when Mainstream merged with Pejo Enterprises. Jason has an extensive hands-on background in aquaculture having previously famed Barramundi, Yellow-Tail Kingfish, Tuna and Salmon in different parts of Australia. After graduating in 2007 from Flinders University with a Bachelor of Technology (Aquaculture), he has held numerous roles in business that range from 2,000 – 25,000t production annually, gaining vast experience in operations, research and development, nutrition, work health and safety, human resources, purchase and logistics, harvest and post-harvest quality assurance and fish health.
Jason has a young and growing family that enjoy camping and exploring everything that Far North Queensland has to offer.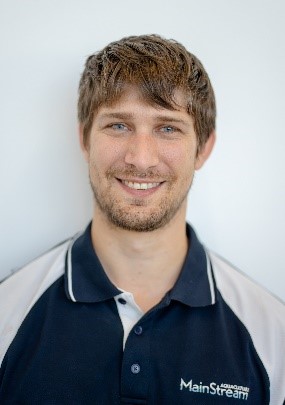 James Brown
• Nursery Manager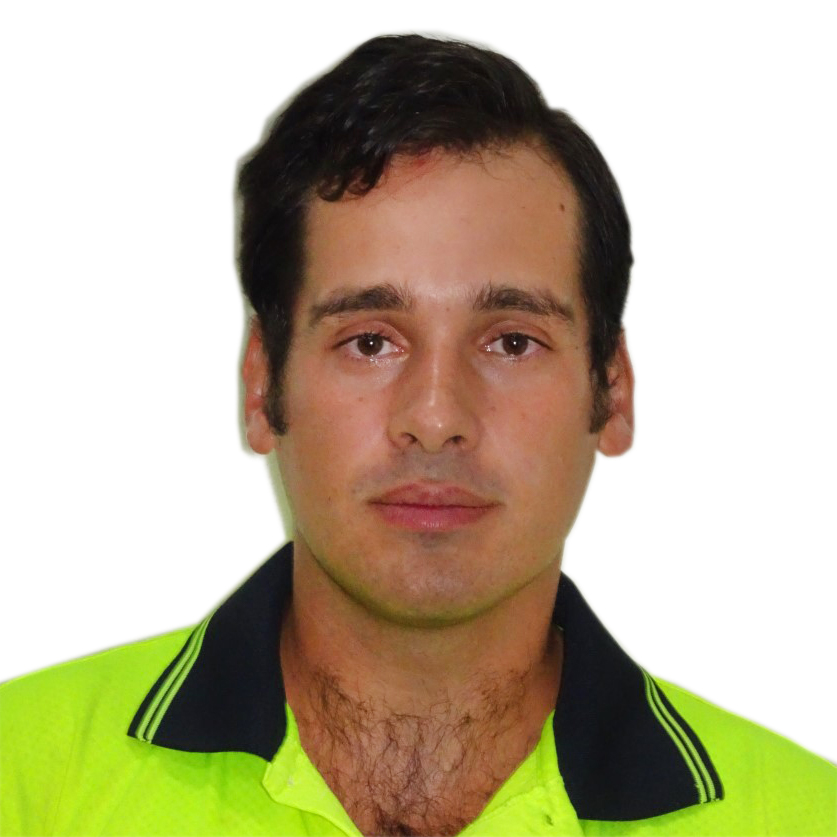 Daniel Minall
• Head of Operations (Martyville)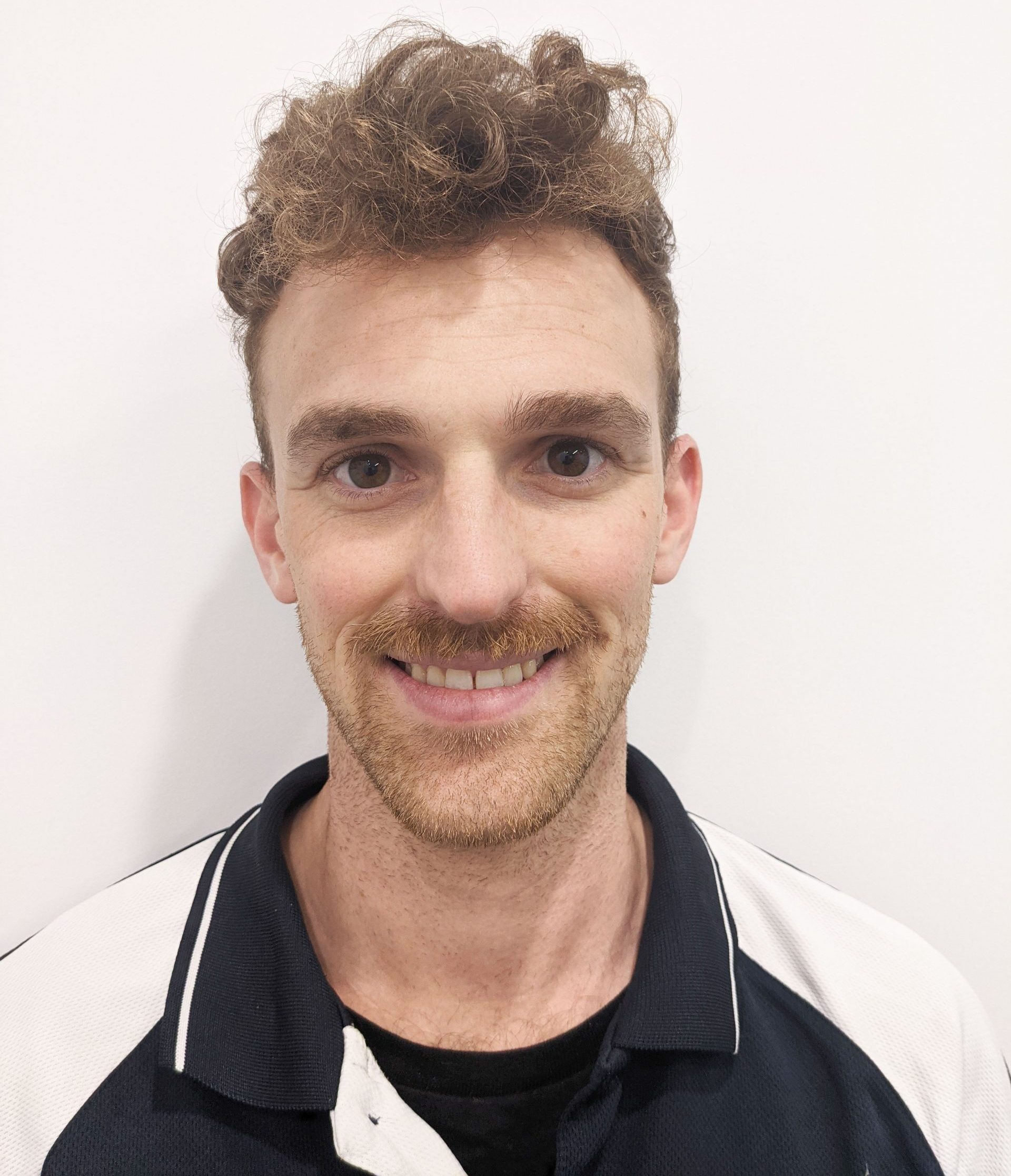 Josh Myer
BSc (Marine Environment/Aquaculture) • Assets and Maintenance Manager
Before joining Mainstream in March 2019, Josh's professional experience included aeration, filtration, trade waste and system water, as well as aquaculture.
His experience at Mainstream has included hands-on and management roles across the board in plant and operations for table fish.
As the Assets and Maintenance Manager, Josh oversees the delivery of all maintenance and service programs, and is responsible for all onsite infrastructure. A major exercise is to minimise plant downtime and to streamline production to optmise fish growth and survival rates.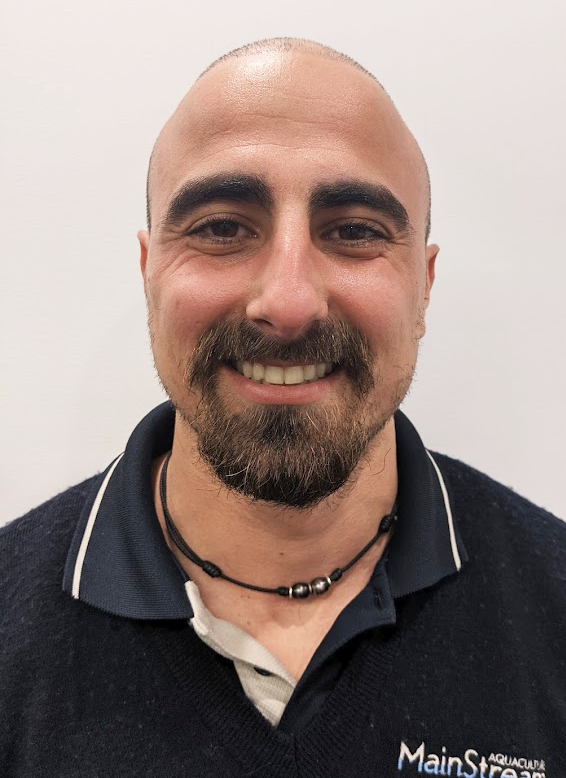 Clement Pissoat
BSc (Marine Biology), MSc (Aqua & Eng) • Production Manager & Marine Biologist
Since joining MainStream in March 2019 as an Aquaculture Technician, Clement has combined his formal education in aquaculture science and engineering with his love of marine biology to become a key member of the team.
Clement has advanced to become the Production Manager & Marine Biologist who is responsible for fish husbandry operations and overall table fish production, as well as providing technical advice.
An avid surfer, Clement keeps an active lifestyle outside of work – a true lover of the sea!
Hatcheries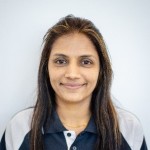 Alpa Pansuriya
BSc (Medical Laboratory Technology), Dip. Community Welfare • Hatchery Manager
Alpa has two and half years of work experience as a hatchery Technician in Spring Bay Seafoods Tasmania (larval rearing of mussels and oysters, experience in microalgae cultivation). She joined Mainstream Aquaculture in 2015. Alpa brings a high level of quality, attention to detail and dedication to the role. She runs the production team on the floor and is a key member in bringing high quality larvae and survival from each batch, contributing to growing and record breaking larval production.
Get all the latest barramundi news to your inbox: