Adzlan Awang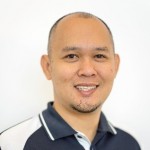 Coming from a line of fishermen, it would come to no surprise to his family, when Adzlan finally dipped his toes into the industry. Coming in from Malaysia with a degree in Genetics & Biotechnology, he dived headlong first into Australia to study aquaculture and later had his first job as a technician in a small RAS farm in South Australia. That company later gave Adzlan's his first managerial position and grew from a start-up to a multinational company with farms in Malaysia, Brunei, Japan and China.
Realising the potential of aquaculture, Adzlan came back to Malaysia and with a small group of friends, developed another start-up from a humble hatchery shed to a multi-million company and along the way paved the way for an integrated aquaculture facilities, complete with hatchery, nursery, grow out facilities and a processing plant. Adzlan later took the role of the Business Development Manager and expanded the market for grouper, snapper and barramundi into Asian markets such as Hong Kong and China.
Adzlan's key interest in aquaculture is always about improving production methods and giving back to the community. As an active secretariat of Malaysian Fish Farmers Association of Malaysia (MFFAM) Adzlan has worked with the Ministry of Agriculture and NGOs such as WWF Malaysia to organise initiatives to help fishermen develop localised sustainable farming methods and modernising of traditional farming methods. His proudest moment came when he saw his project being taken up nationally as a Poverty Eradication Through Aquaculture Project template.
Get all the latest barramundi news to your inbox: